Transformational Books
Award Winning Books to Inspire and Transform Your Journey to Self-Mastery
TRANSFORM YOUR LIFE WITH PERSONAL DEVELOPMENT BOOKS ON SPIRITUAL ENTREPRENEURSHIP
As an award-winning author and inspirational speaker, Pauline has written personal development books that are designed to awaken new perspectives and bring about transformational change through self-disruptive leadership.
Discover how to achieve self mastery with her books on spirituality and entrepreneurship. Learn about leadership & self awareness while devising a self development plan for self leadership.
Browse the range of personal development books on spirituality and self mastery today.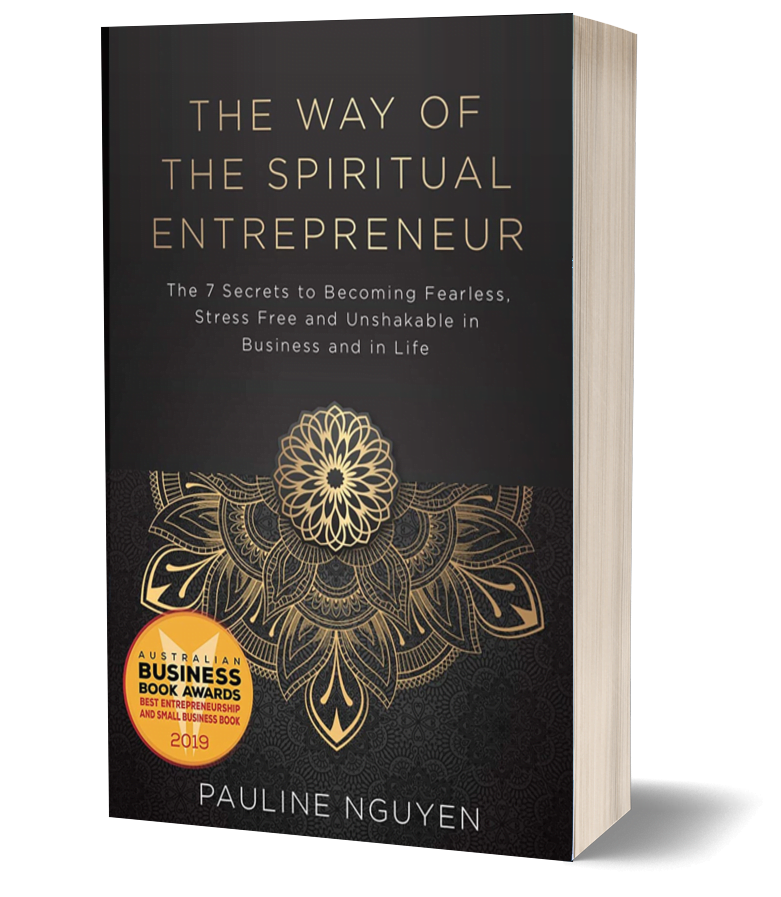 THE WAY OF THE SPIRITUAL ENTREPRENEUR
From depression and burnout, to unshakable success, The Way of the Spiritual Entrepreneur helps socially conscious, spiritually-minded entrepreneurs become fearless, stress free, and unshakable. 
In this personal development book on spirituality and entrepreneurship, Pauline teaches overlooked and forgotten developments in cognitive science, quantum physics and biology that have been used to transform lives and businesses. It is a book about self mastery and self leadership for spirituality and small business.
Winner of 2019's Best Entrepreneurship and Small Business Book of the Year in 2019, Pauline wrote this book after years of encouragement from those who worked within her orbit or heard her speak on the international stage; in a bid to bring her philosophy and wisdom to a larger audience.

Pauline suffered a childhood mired in trauma and abuse; the ability to work hard literally beaten into her. After co-founding her own business and restaurant, Pauline was working up to 100 hours a week. Thin, burnt out and suffering from stress-induced alopecia, Pauline knew there had to be a better way – and set about her own venture to uncover the secrets to both business prosperity and a thriving spiritual practice.
Her blend of mystic Eastern spirituality and high-performing Western business acumen make her uniquely suited to speak to entrepreneurs about rewiring your biology and rewriting your biography.

"It's my hope to increase human potential for my fellow entrepreneurs… which will inevitably elevate our families and business relationships, extending to our immediate communities and the world at large. But above all of this, must come first, a deeper understanding acceptance and celebration of ourselves."
Pauline Nguyen
Purchase your personally signed copy of The Way of the Spiritual Entrepreneur.
Audiobook of The Way of the Spiritual Entrepreneur also available.
"Pauline's thoughtful reflections appear over and over; I especially appreciate when she debunks popular thought such as 'positive thinking.' She skilfully weaves in her background and experiences to express where her values were forged. Red Lantern is more than a restaurant – it is emblematic of the Spiritual Entrepreneur. Her story is a chronology of evolving from a 'doer' to becoming a 'being.' I wish we were neighbours so I would bump into her weekly and walk away realigned."
– Michael Grinder | Pioneer in Non-verbal Communication – Michael Grinder & Associates
"I have so much respect for Pauline Nguyen as a human being and as an entrepreneur. She really is the spiritual entrepreneur who shares her life experiences, wisdom, and beliefs in an incredibly generous way. The Way of the Spiritual Entrepreneur is a fantastic read and is being released at the perfect time—when the world is ready to hear the messages."
– Andrew Griffiths | Australia's best-selling small-business author
"This book changed my life. Before reading 'The Way of the Spiritual Entrepreneur' a friend said to me, "When you finish this book, nothing will be as it was before." How true this was. Nothing is as it was before. Pauline, I didn't even know I was looking for you, but you came into my life at the exact moment I needed you most. My sincerest thanks to the universe and to you!"
– Nina Helena Schlieper | CEO & Founder Alternative Travel Cartagena SAS (Colombia)
"I LOVED Pauline's book. When I saw the title of this book at the book store, the thought of mixing the realms of business and spirituality excited me. But what I got from Pauline's book was so much more!
Not just another interesting book with some interesting content but EVERYTHING that I have been curious about all in the one book. And more profoundly and elegantly written than I could ever have hoped for.
Thank you so much for such a life changing book! I have so made so many notes in the margins and intend to re-read so many times to fully distil its wisdom."
– Hayley Golledge | Bloom Print Life Design
"As soon as I opened The Way of the Spiritual Entrepreneur, I couldn't put it down. Although I live on the other side of the globe, I know deep inside this book has chosen me. I laughed, I cried, I was validated and inspired. Pauline's book has helped me to transform as an entrepreneur in so many ways."
– Adriano Silva | Founder and Owner 2Soul Language School
"With my deepest thanks I want to let you know how important your book has been.
It's like I've finally met myself, honestly, without angst, doubt or projection. In the simplicity of knowing, finally, the person I am.
Like anyone who has come to this point in their evolution, it hasn't been without great pain.
I am so lucky to meet myself in time to create my highest expression in this life. What a gift and a legacy for my daughter…
…Thank you for putting in words nearly every conversation I've ever had deep within myself. It's really uncanny how your words speak at that level.
I'm so inspired by the gift you've given me, and I'm honoured to share such a beautiful space and opportunity for joy.
I always "knew" I was this person and I finally realise that my deepest pain wasn't trauma related…it was the restriction I felt at not allowing myself my truest potential.
I can't express in words the freedom I now feel in knowing I can "do me" from this point on.
Your book is a gift to human kind Pauline. Thank you."
– Janina Hill
SECRETS OF THE RED LANTERN
Best-selling author is another title Pauline Nguyen can add to her extraordinary CV. Winner of the 2008 Best Debut Writer, part cookbook, part memoir, Secrets of the Red Lantern is a dazzling look into what binds a family together.
The sumptuous hardcover book details the Nguyens' flee from communist Vietnam, where three-year-old Pauline and her family spent nine days at sea in a tiny, handmade fishing boat. Studded between Pauline's memories and raw, personal reflections are the magnificent recipes that make up the bedrock of the Nguyen family.
At the heart of Pauline's 275 traditional Vietnamese recipes is the power of food to elevate and transform. Recipes like Goi Du Du (Green Papaya Salad with Prawns and Pork), Bun Rieu (Crab and Tomato Soup with Vermicelli Noodles) and Che Khoai Mon (Black Sticky Rice with Taro) are scattered amid rich culinary photography to make the taste buds tingle. Secrets of the Red Lantern details the twists and turns taken by two generations of one family, leading to the opening of Pauline's iconic restaurant, Sydney's Red Lantern – the most awarded Vietnamese restaurant in the world.
Purchase your limited edition, collectors version of Secrets of the Red Lantern.
"You are naturally happier when you design your life consciously. Let me repeat that. You are naturally happier when you design your life consciously."
Pauline Nguyen